"Girlfriends Grow 2Gether" Returns!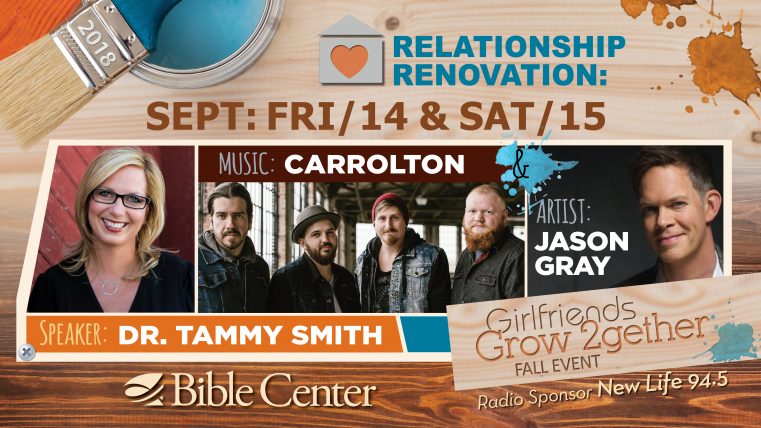 Girlfriends Grow 2gether Fall Event at Bible Center!
New Life 94.5 is excited to be the radio sponsor of the 2018 Girlfriends Grow 2gether Fall Event at Bible Center Church! Treat a special woman in your life to a time of encouragement and worship with girlfriends! Get a fresh biblical perspective on finding hope in your ever-changing relationships.
Relationship Renovation
Restoring the Hardwood Floors of Your Heart
Friday, September 14 • 7 – 9:30 PM
Saturday, September 15 • 9 AM – Noon
Featuring…
Dr. Tammy Smith
Counselor, author, and speaker
Tammy is a wife to Mike, whom Tammy describes as amazing and wonderful, and who is also a pastor of Vista Community Church in Northwest Columbus, Ohio. Their boys Spencer (19) and Shaeffer (17) are the joy of their lives, and keep them hopping!!
Tammy is a Licensed Professional Counselor in the states of Ohio and Texas, a National Certified Counselor, and holds a Ph.D. in Psychology. Her graduate and undergraduate work was in counseling and Bible. She works two days a week in her counseling practice, Threshold, and has been ministering to clients for 23 years. [More…]
with Guest Musicians…
Tickets
Available online.
Pre-sale (May 6 – July 31): $40
Regular Ticket(August 1 – event): $50
One Day Pass: $30
Location
100 Bible Center Drive, Charleston 25309