WINTER JAM 2019!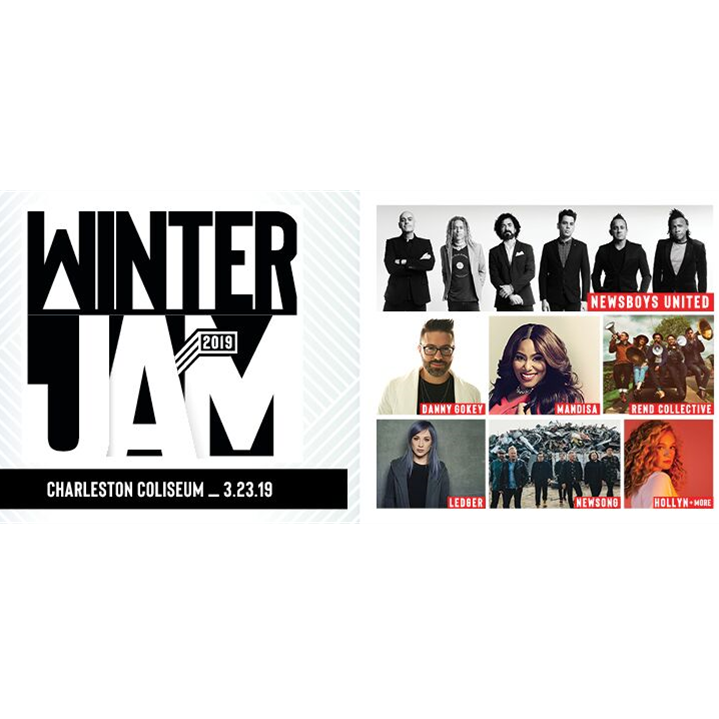 The Winter Jam Tour Spectacular, Christian music's largest annual tour and one of the top first quarter tours in the world, returns to the Capital City Saturday, March 23rd at the Charleston Coliseum!
Revealing a history-making tour first, Winter Jam will be presented on a 360º "in the round" center stage, showcasing a diverse lineup helmed by supergroup Newsboys United. Comprised of current members Michael Tait, Duncan Phillips, Jeff Frankenstein and Jody Davis, along with former members Peter Furler and Phil Joel, Newsboys United are set to take the Winter Jam stage to deliver a string of the biggest hits from the iconic band's three-decade career.
Winter Jam's 2019 blockbuster lineup continues with GRAMMY®-nominated former "American Idol" finalist Danny Gokey; GRAMMY®-winning recording artist and "Overcomer" hitmaker Mandisa; Northern Ireland's "Count Every Blessing" worshippers Rend Collective; Skillet drummer and female solo rocker LEDGER; GRAMMY®-nominated tour creators and hosts NewSong; and Dove Award-nominated Gotee recording artist Hollyn. In addition, the Pre-Jam Party is slated to feature hip-hop recording artist Ty Brasel; rockers Manic Drive; singer/songwriter Dan Bremnes; and special guest former Stellar Kart and Audio Adrenaline front man Adam Agee. The tour will also include a Gospel presentation from Dare2Share speakers Greg Stier or Zane Black.
Jam Nation: 3:30 PM
Doors Open/Pre-Jam Party: 5:00 PM
Show Time: 6:00 PM
For more information, visit www.jamtour.com