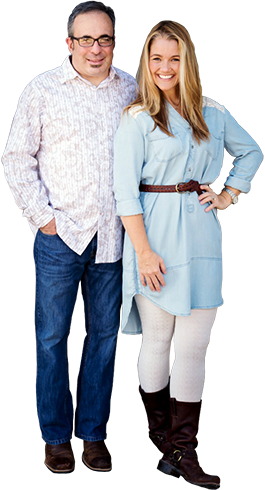 Mornings with Steve & Amy on New Life 94.5
Steve and Amy have been together doing a morning radio show for over five years, and they are very excited about being on New Life 94.5 in Charleston! They are real people who love talking about family, faith, and life in general, and of course they love playing lots of uplifting music. Sometimes the show is light and fun, sometimes more serious, even profound. Mornings with Steve and Amy is always a show the whole family can listen to together. Steve & AM weekdays 6am to 10am on New Life 94.5!
Steve Sunshine
My real last name is Sunshine. So it's amazing that my wife Gaye was willing to marry me – since it made her name Gaye Sunshine. We have a teenage old daughter named Camille and a son named Meyer.
Camille loves theatre, classic literature and theology. (Yeah, I don't know how that happened.)
We adopted Meyer from Haiti in 2008. It took us three years and was, without a doubt, the biggest step of faith in our lives. He fits in great! He's a total showman, song and dance man, and super speedy runner. He especially loves flag football and basketball.
I didn't grow up in a Christian home and did not come to know Jesus until I was 30. My (future) wife played a huge part in my journey by patiently answering my questions.
Having been a cynical non-Christian in the past helps me to relate to people who have negative per-conceived notions. I love being part of the New Life 94.5 Family!

Amy Byrd
What an amazing privilege to be able to be a part of your morning each day. I am so grateful! My heart's desire is that we're able to come along side you to encourage, equip and offer hope— and in the midst, hopefully offering you a good laugh along the way. Life is coming at us from all directions and brings so many challenges.
And everyone knows hearty laughter is not only good medicine but it is also a good way to jog internally without having to go to the gym! Steve is truly like the brother I always thought I wanted.
My husband, Lloyd, is a true gift. Not only did he move his career so I could take my current job, but he is also my biggest supporter. We got married soon after he graduated from Law School and accepted his first job at a law firm in Virginia. We got married in Maui, Hawaii and part of our "You're Married Now" package included a bumper sticker that says, "Just Mauied"—I've always love that. HAA!
I am a mom to Quinn (age 8), Della (age 3) and Maggie (age 1). Even though I work outside our home— I want with all my heart to mother as if I stay at home. I love cooking and trying out new recipes—and even though all my "experiments" aren't winners, I love that my family never complains about being the guinea pigs. We try and get outside as much as possible, we love anything outdoorsy! I'm so thankful and excited to be a part of the New Life 94.5 family with Steve.